Today marks the beginning of the Lunar New Year for 2018, the Year of the Earth Dog. Have you done the Yu Sheng or the Prosperity Toss to welcome the new year? This is only one of the several ways you can invite good luck. We sat down with Feng Shui Expert Princess Lim Fernandez, and she gave us tips and some expectations for this year.
Expectations
What will be prominent during the Year of the Earth Dog is change. Princess shares that changes in career and lifestyle will be common, so she encourages people to be open to it, get out of their comfort zone, and welcome transformations and transitions. "People will take a step back, evaluate, assess where they're at and suddenly realize, 'No, I don't want to do this. I want to be do something else."
At the same time, she recommends people to think hard about their decisions first as it will also be an emotional year. Being an earth year, 2018 will also prompt meditation, contemplation, and self-evaluation. Princess talks about how "many will go back to basics, [their] roots, [their] home." When it gets rough, she advises people to reach out to family and friends to get through the year—and that is also what will make it more memorable.
Love
Princess describes this year as a very emotional one, so for the people in a relationship, married or dating, be extra patient with your partner. Do not react in a haste to avoid being blinded by extreme emotions that might lead you to do or say things impulsively.
As this year is also characterized by changes, Princess recommends that when making drastic ones such as getting married, couples should go on a retreat first to get to know more about themselves and each other. It is also the perfect time to contemplate before a major life decision.
"A lot of signs don't have a very rosy romance luck for this incoming year." Princess' advice to those who are single and whose luck in the romance front is unfavorable: just manage your expectations when dating. It would still be best to focus on other aspects of your life where your luck is looking up.
Health
In traditional Chinese medicine, each part of the body has its own relations with an element. The earth element in particular governs the stomach and the digestive system, so Princess emphasizes how extra careful people should be about what they eat and where they eat. She also adds how earth has to do with growth, "It can be as simple as more pimples, more whiteheads, but it could also be on the other extreme like cysts, lumps." People should therefore be more conscious; don't forego a checkup should you be feeling anything unusual.
Career
Each person has his or her own individual luck in the career aspect, but Princess shares that because people will be looking out for their health and food consumption this year, industries related to wellness, insurance, and agriculture will do well.  Designing, writing, and the arts will also do well. These are the clinics, companies whose service is to make people feel good, as well as restaurants promoting organic, natural, and preservative-free food.
Wealth
Money luck is looking good for the people born on a wood* day. In addition to earth-related industries, businesses that have to do with wood and ones that involve being creative like designing and writing will also do well. Princess advises to motivate the wealth star and prosperity star for those signs who aren't lucky with money this year.
Ensure that the southeast and center of your home and offices are neat, clean and clutter-free as the current year's prosperity and wealth star are shining on these directions ensuring that these areas are well lit and has a welcoming energy will help bring in and motivate the good energies of wealth to come.
*You can check the element of your birth day, month, and year here.
Tips
If you fall under the signs whose luck appear to be unfavorable this year, don't be alarmed! There are still ways to mend your luck through Feng Shui. Below are suggested items you can add in your house or office, as well as pieces you can bring along with you to improve your fortune.
Double Double Money Catcher
To increase your money luck, place this piece in the wealth area of your home or office. It has a voracious appetite for wealth, and with two heads, it further doubles the fortune it catches from both directions. It is also good to have to neutralize Sha Qi or the negative energy.
Magical Amber
The magical amber is a fossilized resin sourced from ancient evergreen trees, providing it with old energy and accumulated wisdom of the earth. This stone can balance emotions; attract good luck; eliminate fear; dissolve negative energies; and help develop patient, wisdom, and courage.
Epic Stone Fruits
Since the year is all about change, best to have these epic stone fruits, which signify transformation. It will help calm down one's fears and make him or her feel safer and more secure. The stone fruit is also considered a "Stone of Communication" that can assist in alleviating heated discussions. As this year will be an emotional one, this can help tone down arguments for couples living together.
Amethyst Nugget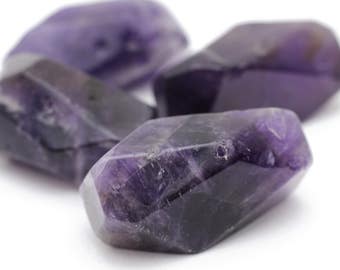 Photo from Esty
Having an amethyst nugget will not only attract good health, it will also help improve your overall health luck. Princess shares, "Make sure it's real so you can benefit from the energy of the earth."
Lucky Pouch
Put Php 168 pesos inside an ampao, then inside this pouch. Carry this with you throughout the year to boost your wealth luck. On the next Chinese New Year (February 5 of 2019), deposit this in the bank and that will make your money luck for the new year favorable.
Lucky Colors
Although the colors of the year are yellow, beige, and brown, Princess warns that too much of these might bring more bad than good. Your lucky color is still based on your birthday.
Want more ways to bring in good luck? Celebrate the arrival of the Year of the Earth Dog in the newly opened Grand Hyatt Manila this February 15, 2018. The festivities start at 10:30 PM with the Can Bai Wishing Ceremony and Dragon & Lion Eye-Dotting Ceremonies followed by a spectacular display of fireworks at midnight. For your 'First Lucky Meal of the year,' you'll be served with an exclusive lauriat featuring auspicious dishes accompanied by a Feng Shui talk by Princess Lim Fernandez. Tickets are for sale in the Yin and Yang Shop of Harmony.
Liked this post? Follow The Girl on TV on Facebook and @thegirl_ontv on Instagram for more!