Have you heard the stories behind the Philippines' most frightening places? Keep the lights on because this is going to give you the shivers. Below are the haunted spots you'd think twice about visiting.
5. Manila Film Center
Source: The Paranormal Guide
Tragedy plagued the construction of the film center when the scaffolding of the ceiling collapsed, trapping construction workers inside. Many died and some were gravely injured. Rumors circulated that despite the accident, the building's construction continued since it needed to be ready for an upcoming film festival. It was said that cement was poured over the ruins, which meant that workers who were still inside may have been buried alive.
4. Corregidor
A fortress turned military encampment, Corregidor suffered devastating bombings during World War II. What are now ruins are said to be home to the spirits of WWII victims. The Malinta Tunnel and the hospital in particular are popular among ghost-hunters.
3. Fort Santiago, Intramuros
Source: Diamond Hotel
During WWII, Fort Santiago was a prison where many Filipino soldiers and guerillas were held captive, tortured, and killed. Today, people share stories about seeing figures of men in blue uniforms passing by the streets at night.
2. Clark Air Base Hospital
: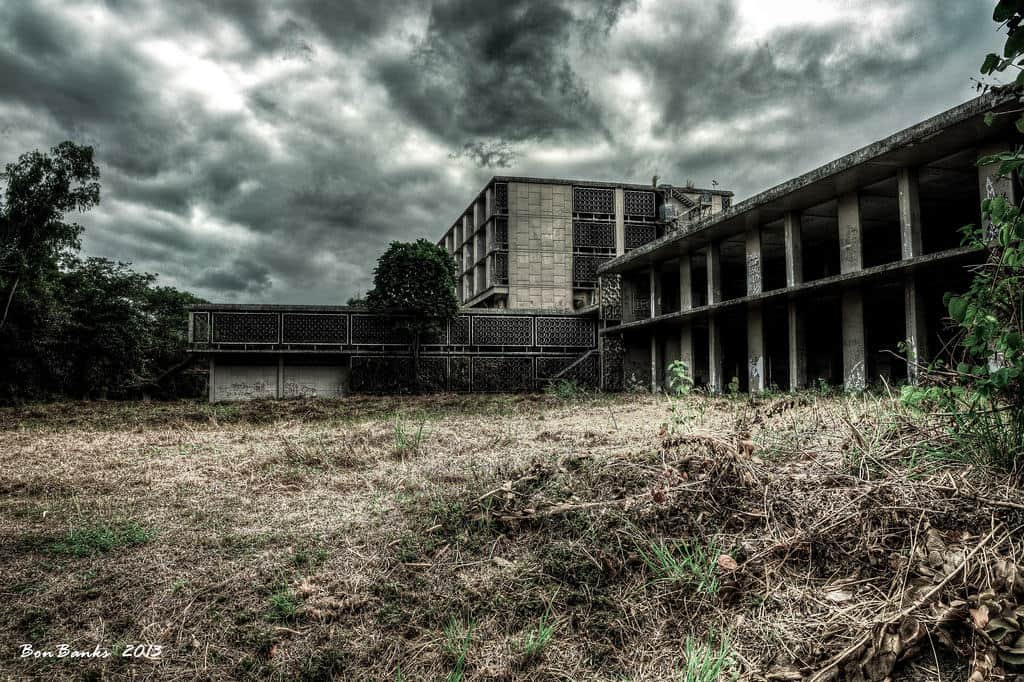 Source: Bon Banks
A safe haven for American soldiers who were victims of the Second World War, the Clark Air Base Hospital is now reported to be home to restless and violent spirits. It gained such a reputation that Ghost Hunters International referred to the abandoned hospital as "one of the most haunted places in the world."
1. Diplomat Hotel
Source: Geoffreview
Before becoming a hotel, the Diplomat Hotel was a monastery. During World War II, it was one of the places that fell when the Japanese attacked, causing the deaths of many priests and babies. Rumor has it that people have spotted a headless priest roaming around as well as hearing faint cries of babies.
Liked this post? Follow The Girl on TV on Facebook and @thegirl_ontv on Instagram for more!